My absolute must-have kitchen tool-part 2
I learned many years ago there is only one liquid measuring cup I will ever own. Pyrex. Why? Because I have purchased many, many other liquid measuring cups in the past only to be completely surprised (not the good kind of surprised) to find the measurement readings completely disappear! What on earth would I need a liquid measuring cup without any measurement readings for?!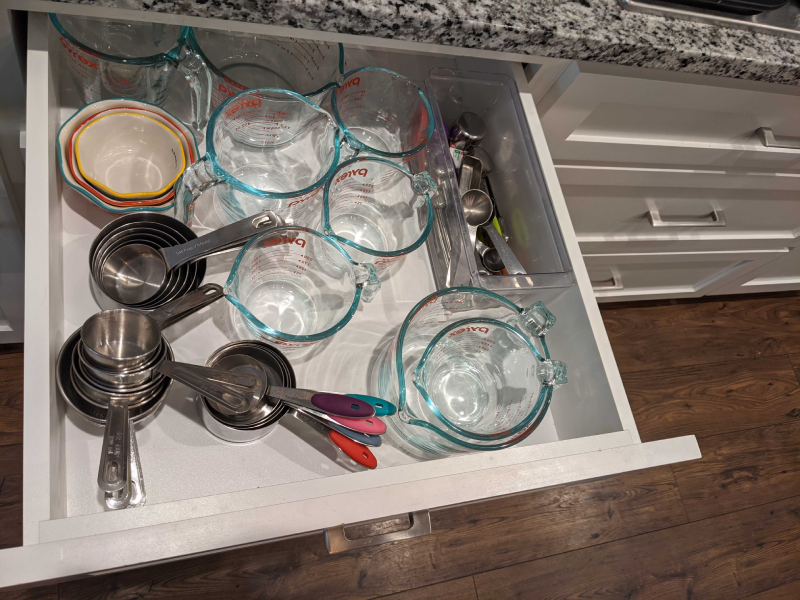 I have many Pyrex liquid measuring cups and have had them for many years. I love that they are glass! I love that the readings stay put! I have one that has had much more use than the others and there is a bit of fading on the bottom portion, but other than that these cups have been workhorses for me! I put them in the dishwasher and they have held up beautifully. I love all the different sizes. I even have an 8 cup Pyrex. I have used the 8 cup Pyrex to make batters and I even used it to make muffins in yesterday. It was great to measure the liquid ingredients in to start and then I dumped all the dry ingredients in and mixed it up! I used a food scoop to portion it into the muffin tin, but you could easily pour straight from the pour spout if you were making any kind of batter. The 8 cup Pyrex came with a lid that is so useful! I love my measuring tools and having a drawer full of them makes me so happy! I have bought a few of them at a time over the years and it's been a great investment!