KitchenAid VS Bosch – Mixer Showdown
I have been asked many times what is the best mixer to buy. I have a surprising opinion on this topic. I think both! Now, I would never suggest buying both at once! I was married for 10 years and saved up by the time I purchased a bosch mixer. I think for the money, a KitchenAid is a great mixer to begin with! Here are some of the pros and cons of each and you might see why I love having both!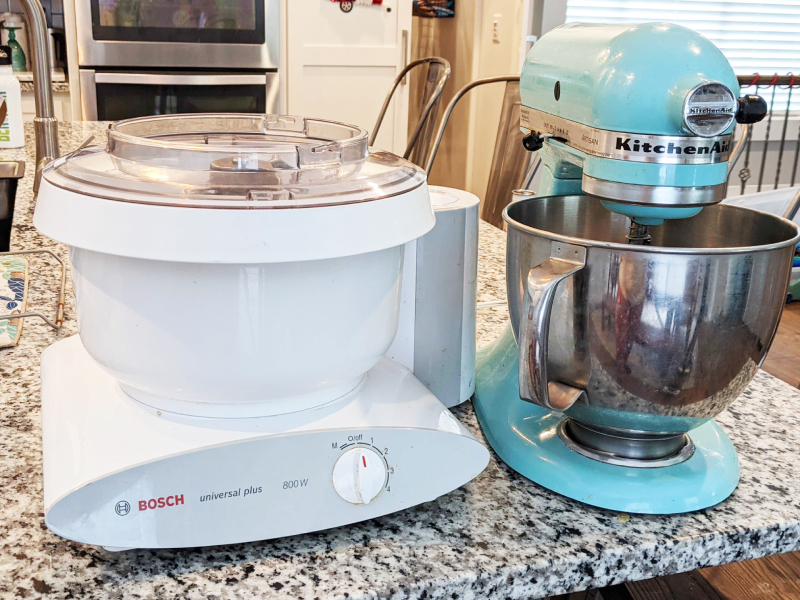 The KitchenAid is a great mixer to have, especially if you can grab one while it's on sale! I am sure there are a thousand uses for this mixer, but I pull it out (it's a beautiful piece for the counter if you have space! ) every time I make cookies, frosting, whipped cream, cake batters, and I even use it to shred meat! The meat has to be shreddable, but once it's cooked enough, I place it in the mixer with the dough hook and it shreds the meat up for me! Be careful, though, it's hot! It does look marvelous on the counter too. The cool thing about the KitchenAid mixer is all the attachments! My absolute favorite thing is the pasta attachment! I use this so, so much! Mr. Darcy has an egg intolerance and can't have egg noodles. I make my own, egg-free version that tastes AMAZING! It is extremely satisfying to make your own noodles! Core, peel and spiralize your apples for apple chips and more! Grind your own meat! There are a lot of different options for a KitchenAid. The only real downside is that it really can't handle heavy things, like dough! For this reason, I think it's best to start with a kitchen aid. It's so versatile and you can knead your bread dough by hand until you can someday buy a Bosch. I have had my KitchenAid for years without a problem, I even used it for dough a time or two (and realized it might break if I did again). That's when I decided to save up for a bosch!
Bosch mixer. The Bosch mixers are known for their great motors. They are in it for the long haul! Before I got a Bosch, I bought a bread machine. The bread was…not good. I don't like the taste of bread from the machines. I decided to invest in a Bosch and I absolutely love it! There's nothing like homemade bread. I use it for other things as well, it can also shred meat and you can even get a shredder attachment for the mixer! I love having the Bosch mixer, it's really awesome to use! I bought the whip attachment but I read that no attachment is very good on the Bosch for making frosting. So, because I make a lot of frosting and a lot of dough, I love having both mixers! Some people don't feel like the Bosch is very pretty for the counter. I am just grateful to have one! I know it's going to last and I love it! It makes me happy!
If you have the space, money and love to cook and bake, I think having both in your kitchen is a great investment.