I have been trying get more fruits and vegetables into my daily diet. And by diet, I just mean the way that I eat. I don't know about you, but making a salad just feels so daunting sometimes. And I love to cook, chop and bake! I think it's because there's the morning rush, the daily things that need to be done, work and dinner to think about and it feels like there isn't really time to go into the kitchen and prepare one. more. meal.
Trying to keep it real, for myself, I realized that if I was going to eat something that made me feel good for lunch, something that fueled my body in a great way, I was going to have to prepare things once for the entire week.
The routine is pretty simple! I washed and chopped all of the things I wanted on my salad on Monday. You can do it on Sunday if you would rather. I do all my shopping on Monday, so that's when I chopped up all the fresh veggies. I love to get some healthy fats on the salad so that I feel full much longer after eating. I really love my glass storage containers! I have had them for YEARS and not had any problems. I couldn't live without them, haha. I have used them in the freezer, microwave, and dishwasher all with no problems. You can use a dry or wet erase marker on the lid to label the food and the date. They stack so nicely, I love that you can see the food and you won't be worried about problems that are associated with plastic. You can get them here.
These are my FAVORITE dressings, here and here!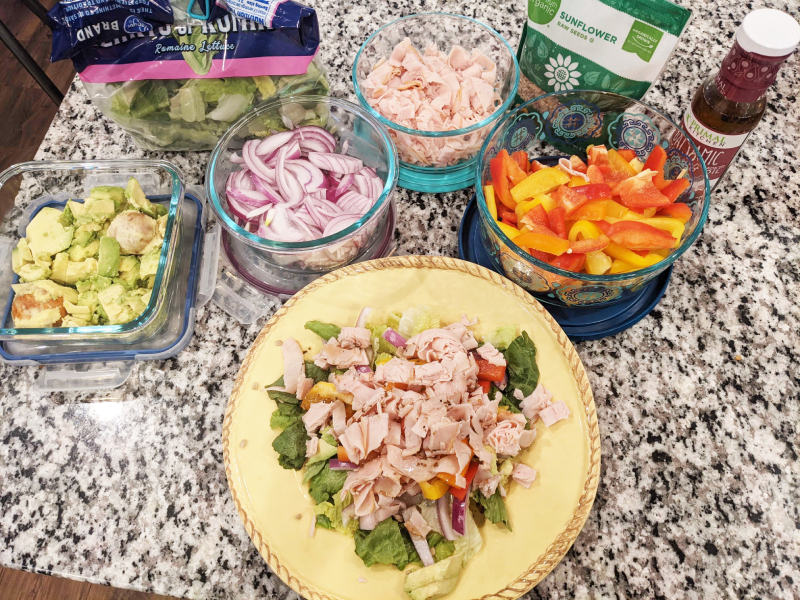 As the week goes on, it takes me mere minutes to get my lunch together. I use any extras I have at the end of the week and incorporated them into dinner. It is such a relief to not have to worry about lunch and know that I am going to have something healthy and filling to eat that is going to keep me going throughout the day. If I don't prep it at the beginning of the week, it just doesn't happen. It not only saves me time but dishes as well. One day of chopping saves me from having to do dishes every day to prepare the salad. Do you meal prep? Do you use separate containers like I do, or do you add it all in one container? Let me know below!