Van's Chocolate Chip Cookies
Jump to Recipe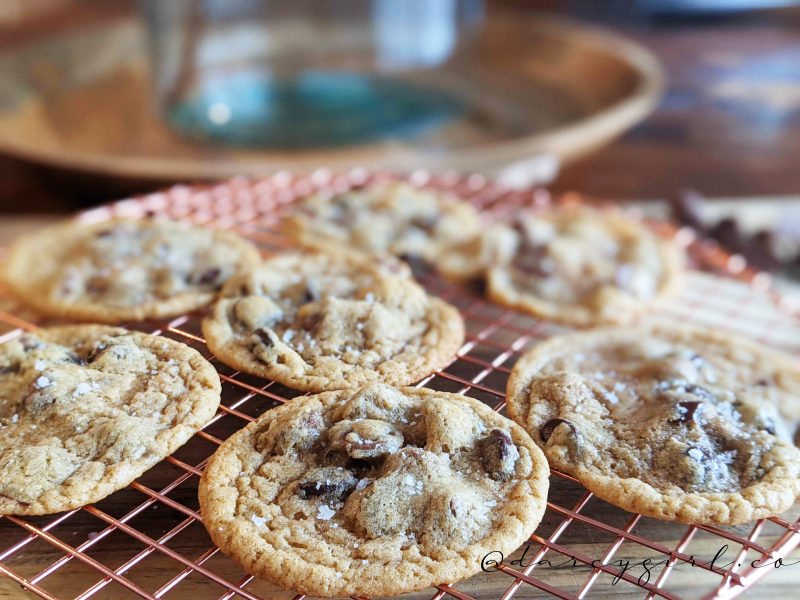 I absolutely LOVE chocolate chip cookies! I have had many chocolate chip cookie flops in my day! I personally hate when my cookies go flat! Has that ever happened to you?! I set out on a journey to make the best recipe and this is the result!
The brown butter in this recipe really makes them special! It gives the cookies and amazing flavor!
Some tips when making these cookies:
If you burn the butter instead of brown it, throw it out! That will not be a pleasant taste! If you are unsure about browning butter, simply melt the butter. I urge you to try your hand at browning butter! It adds a unique taste that will make you say, YUM! I burned butter a few times before I got it right.
If you need to get eggs to room temperature quickly, simply put them in some warm water for a few minutes before adding them in.
Measure the flour correctly or you might have some dense cookies on your hand. Simply fluff up the flour before using a spoon to POUR the flour into the measuring cup. Scooping it out may cause you to unintentionally pack it into the flour. This is one of the things I make sure to teach my kids when baking. It can really change the outcome of most things you bake! If you are really wanting to get an accurate measure, weigh it out. I will look up the weight of whatever measurement I need and use google to make the conversion. I hope this helps!
Use whatever combination of chocolate chips your heart desires! If I am going extra fancy, I will add some white chocolate chips in and have milk, dark and white. Oh, it's so good!
Add whatever nuts your heart desires! Or none at all!
If you are feeling like a salty-sweet treat (my favorite!) try adding a little finishing salt on top. Finishing salt is a little more coarse than table salt, which I would not recommend.
Chill the dough if you want a thicker cookie. The dough tends to spread a little when it hasn't been refrigerated. Know your oven! I have a post about oven temperature here.
Here is a short video time-lapse of browning butter. It can take about 5-8 minutes. Watch it closely, the bubble will change to foam and brown bits will collect on the bottom pretty quickly toward the end and you will know to turn off the heat. I scrape the top to keep checking for the brown that collects at the bottom.
Here is a video time-lapse of making the dough and scooping it out onto baking sheets: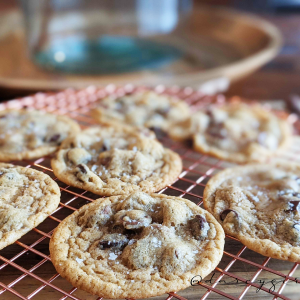 Van's Chocolate Chip Cookies
Ingredients
1

cup

butter

browned

3/4

cup

light brown sugar

3/4

cup

white sugar

2

eggs

room temperature

1

tbsp

vanilla

1

tsp

baking soda

1

tsp

hot water

1

tsp

salt

1 1/8

cup

bread flour

1 1/8

cup

all-purpose flour

1 1/2

cup

milk chocolate chips

1/2

cup

dark chocolate chips

1 1/4

cup

chopped walnuts

(optional)
Instructions
Preheat oven to 375 degrees Fahrenheit. Line a sheet pan with parchment paper or silicone mat.

In a large mixing bowl mix brown butter, brown sugar and white sugar. Mix in eggs, one egg at a time. Add in vanilla.

In a separate bowl mix baking soda and hot water until dissolved. Add to liquid ingredients. Mix just until incorporated.

In a separate bowl, mix salt, bread flour, all-purpose flour together. Slowly add into liquid mixture, do not overmix. Fold in chocolate chips and nuts.

Scoop about 2 tablespoons of cookie dough 2 inches apart onto the lined sheet pan. Chill dough for one hour. If you scoop the dough before chilling, it will be much easier. You can skip chilling but dough will spread more. Bake for 9-11 minutes, just until cookies are golden brown. Let cookies cool for 5 minutes before transferring to a wire cooling rack. Enjoy!