Beet Juice Red Velvet Cupcakes
Jump to Recipe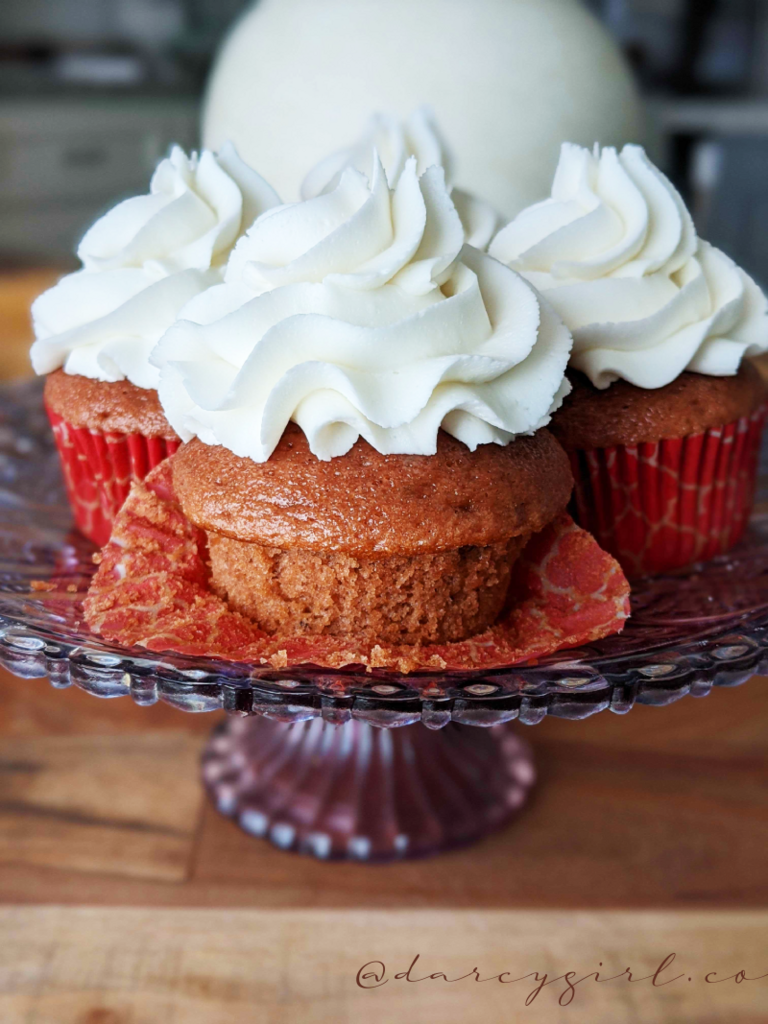 We have a birthday party today and I wanted to whip up some red velvet cupcakes. But, I had no beetroot powder or red food coloring! I am always kind of shocked at how much red food coloring red velvet cupcakes take, so I was somewhat happy that I didn't have any on hand. I made up this recipe and the cupcakes turned out pretty good! I really love how the color turned out, but it's not the traditional bright red that is usually associated with red velvet. I love the natural-looking color better but if you want a deeper red, try adding some red gel food coloring. The recipe has a couple of surprising ingredients, but nothing that is hard to find! I used beet juice from a can of beets I had. Everything else, you probably have on hand. Simply make these dairy-free by adding 1 tablespoon of vinegar to the non-dairy milk!
One note about baking the cupcakes: I started with the oven preheated to 400 degrees Fahrenheit, and after 5 minutes turned the oven down to 350 degrees Fahrenheit. This will give the cupcakes a more domed look in the end. Have you ever tried this method? I think it works really well!
A quick discussion on frosting. I love, love shortening frosting. That's just me! I think it goes really well with this recipe but a cream cheese frosting would also be really delicious with these cupcakes!
These cupcakes are really quick to make (see how quick they mix up in this video), I hope you love them as much as we do!
If you're curious about the tip I used for the frosting, it's the Ateco 856. It's a seriously great tip!
Now, this is what I love about parties!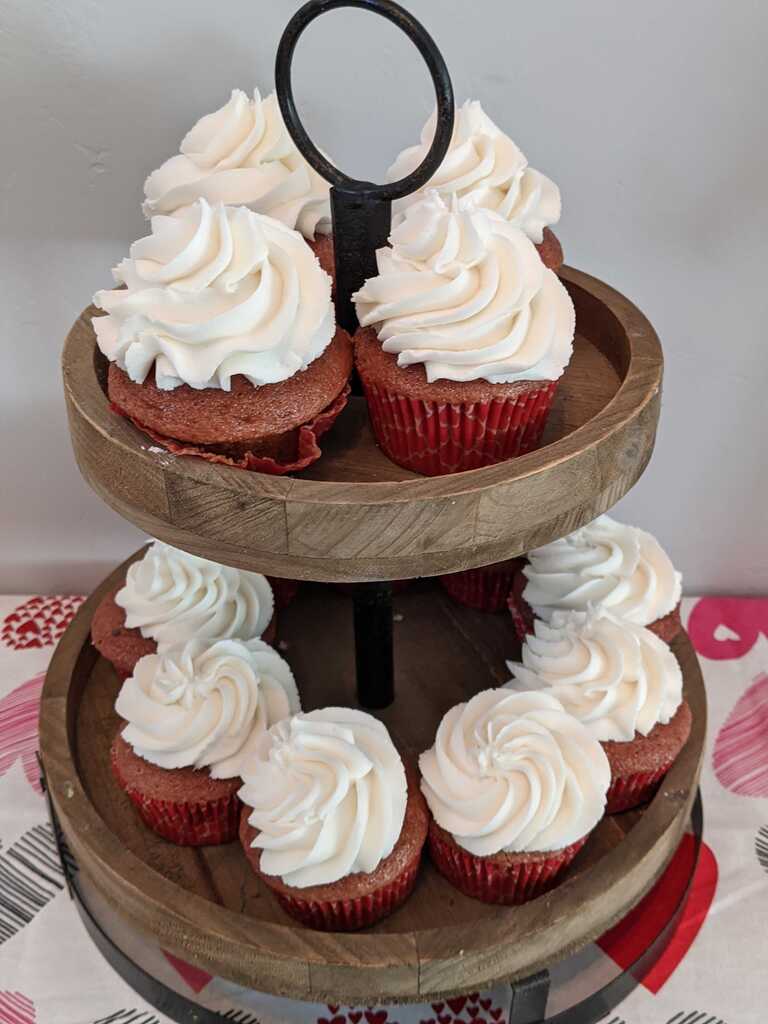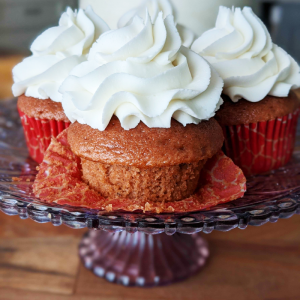 Beet Juice Red Velvet Cupcakes
Ingredients
2 1/4

cup

all purpose flour

1 1/2

cup

granulated sugar

3 1/2

tsp

baking powder

1

tsp

salt

2

tbsp

cocoa powder

1/2

cup

vegtable oil

or canola oil

1/2

cup

mayonoise

(real mayonnaise)

1/2

cup

buttermilk

(if non-dairy add 1 tbsp to 1/2 cup non-dairy milk)

1/2

cup

beet juice

(drain from a can of beets)

3

large

eggs

1

cup

shortening

I use Crisco

8

cups

powdered sugar

sifted

1/4

tsp

salt

1

tbsp

clear vanilla

(optional)

6

tbsp

milk

(can be non-dairy)
Instructions
Preheat oven to 400 degrees Fahrenheit. Line two muffin tins with 24 cupcake liners or grease tin wells.

In a large mixing bowl or mixer, combine flour, sugar, baking powder, salt and cocoa powder in a separate bowl.

Add oil, mayonnaise, buttermilk, beet juice, and eggs to dry ingredients. Mix on medium speed or by hand for about 2 minutes, scraping sides and bottom at least once while mixing.

Fill cupcake liners about 3/4 full, leaving some room at the top for expansion. Bake in the oven at 400 degrees Fahrenheit for 5 minutes. Turn oven down to 350 degrees Fahrenheit and bake about 10 minutes more. Cupcakes are done when inserted toothpick comes clean from the middle or when the top of the muffin springs back when pushed.

Make frosting. Mix shortening for about 2 minutes until creamy. Add sifted powdered sugar one cup at a time, when mixture gets very thick, add milk and then the rest of the powdered sugar. Scrape the bowl sides and bottom, add salt and vanilla.

When cupcakes are completely cool, frost cupcakes. Enjoy!