Gluten-free, vegan soft pretzels-Part 1
Jump to Recipe
If you're new around here, we have a number of food allergies/sensitivities in our home and I am always making and creating new things so that we can eat the yummy foods we love, without the harm. It's a journey, not a destination, hahaha.
This week, I created two soft pretzel recipes that both do not have gluten and both are vegan. The difference? The flour used! I found that this recipe had dough that was a little bit easier to work with, but it does have an after taste that I didn't quite love. Other than that, the recipe also tastes the most like gluten soft pretzels (if you don't find there is an after taste). This recipe is worth trying if you find that you don't have problems with Bob's Red Mill all-purpose flour!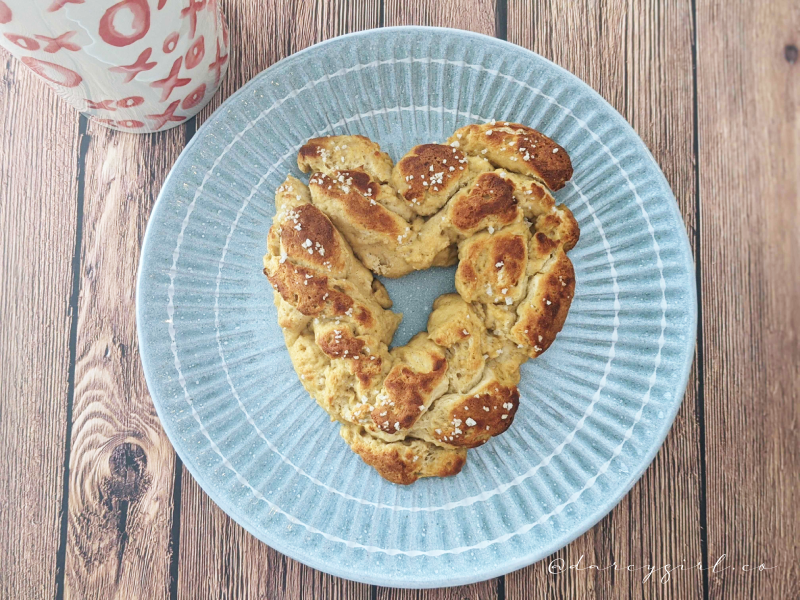 Some notes about the recipe and making soft pretzels:
I recommend watching the video. I create some, what I like to call, foil food boats. I made these so the pretzels would hold their shape in the baking soda water bath that is necessary when making soft pretzels. If you find the dough hard to work with, don't despair! Practice, and find what works best for you. Also, make sure to try different shapes, even simple shapes. What matters most is how they taste.
I use coarse salt to top the pretzels with, you can also skip this step and brush the with your butter of choice (vegan or dairy) once they are finished baking in the oven and sprinkle with cinnamon sugar!
These pretzels have so many possibilities for toppings (melted cheese (dairy or non-dairy, marinara, and my favorite mustard!). Be creative and have some fun with them.
(/div>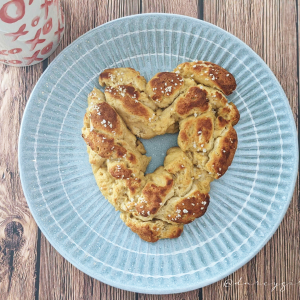 Gluten-free, vegan soft pretzels
Ingredients
1/2

tsp

white sugar

2

tsp

instant yeast

1 1/4

cup

warm water

3 1/4

cups

gluten-free flour

I used Bob's Red Mill All-Purpose Flour

3 1/2

tsp

xanthan gum

I used Bob's Red Mill

1/4

cup

white sugar

3/4

tsp

table salt

1

tsp

canola oil

1

tbsp

honey

2

tsp

olive oil

2

tbsp

course salt

Use to taste

1/2

cup

baking soda

4

cups

boiling water
Instructions
Mix white sugar, instant yeast, and warm water in a medium-sized bowl. Wait 5 minutes for the yeast to bubble.

In a separate bowl, mix gluten-free flour, xanthan gum, white sugar and salt together. Add dry ingredients into the yeast mixture, mix with a spoon until combined. Add canola oil and honey and mix until combined.

Turn dough out onto a lightly floured surface and knead until mixed together. Do not over knead. Pour 2 teaspoons of olive oil into a clean bowl, place dough into the bow,l and turn over so that the oil is on the top and bottom of the dough. Let dough rise in a warm, draft-free spot for 1 hour.

After rising, turn dough onto a lightly floured surface. Divide dough into 6 sections, or desired amount. Shape dough. Create foil shapes to place the dough into and gently place the dough pretzel into the foil.

Preheat oven to 450 degrees Fahrenheit and line a baking sheet with parchment paper. Bring a large pot of water to a boil. Add in baking soda. Place dough that inside foil shape inside the pot and make sure to submerge the dough for 30 seconds. Remove the foil and dough and make sure to drain off excess water. Place dough on parchment. You may have to flip the dough out of the foil and then flip again to keep desired shape. Sprinkle unbaked dough with desired amount of course salt. Bake for 10 minutes or until dough is lightly browned. Enjoy!
Do you enjoy foods baked with Bobs Red Mill All-Purpose Flour? I would LOVE to know down below or find me on Insta!